If you wish to automatically publish now playing information to your TuneIn.com account, you should first contact broadcaster-support@tunein.com and request both the Partner ID and Partner Key for your station.  When making this request, enter "Station API & Partner Key Request" as your email subject and be sure to include your Station ID in the body of the email.
To locate your station ID on TuneIn.com, simply search for your station and copy the last part of the URL.
For example, if your TuneIn.com URL was:
http://tunein.com/radio/Zero-Alpha-s233708/
Then your Station ID would be s233708.  Be sure to include this when contacting TuneIn.com
You can select whether to automatically publish now playing information for SAM Cloud only, Live Streams only or both SAM Cloud and Live Streams.
You can also select which media category types to publish this information for.  You may not wish to publish information for jingles [JIN] or sound effects [SFX] and to prevent track details for these categories being listed, you would simply uncheck the corresponding boxes.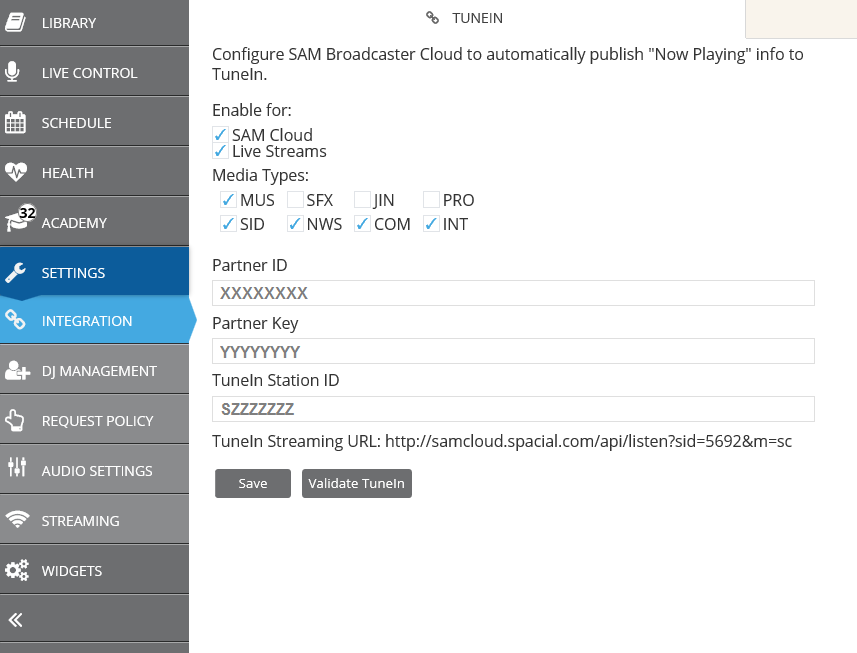 Once you have configured these settings, add your Partner ID, Partner Key and your Station ID in the respective boxes, and click Validate TuneIn.  If this validates successfully, click Save.